Corporate Profile
President's Message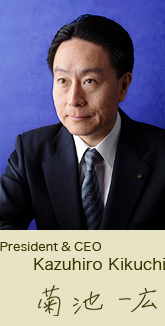 In accordance with its guiding principle of "credibility forms the basis of all businesses", the Kyokuto Securities Group (" Kyokuto Group") has steadily grown since its foundation along with the growth of Japan's capital market even though through vicissitudes.
This is due in no small part to the warm support of our stakeholders, including our customers and shareholders who have been in step with us, for which we are truly grateful.
We will continue to stand on the above guiding principle and ensure sustainable growth, while upholding the "Face to Face business model" based on trust and "sound financial base" as our basic corporate philosophy.
Given the negative interest rate policy taken by the Bank of Japan, among others, the Japanese economy is expected to be placed under low interest rates over a long period of time. As a result, needs for a shift to "higher-return financial products" from "savings" is expected to accelerate and we expect that the importance of the role of the securities market will increase accordingly.
Under such circumstances, the Kyokuto Group, while recognizing its role as a securities company to shoulder the well functioning of the securities market, intends to make efforts to grasp market trends and provide relevant information from an even wider field of view.
The Company has, under its branding slogan of "Let us help you grow your important assets", been endeavoring to provide "unique'in-season' financial products" to swiftly capture the investment environment and the market trends both domestic and abroad .
We will endeavor to discipline ourselves in order to help our customers with their asset management, while strengthening trust in relationship, through compliance-oriented investment solicitation.
We, therefore, ask that you will continue to honor us with your support and patronage.
Company Profile
Name
Kyokuto Securities Co., Ltd.
Since
March 13, 1947
Head Office
1-4-7 Nihonbashi-Kayabacho, Chuo-ku, Tokyo
President & CEO
Kazuhiro Kikuchi
No. of Employees
231 (As of Mar. 31, 2017; Consolidated)
Net Operating revenue
¥10,210million (FY2016 ended Mar. 31, 2017; Consolidated)
Ordinary income
¥4,735million (FY2016 ended Mar. 31, 2017; Consolidated)
Offices
9 Offices (4 in heart in Tokyo, 3 in suburbs of Tokyo, 1 in Nagoya, and 1 in Osaka)
Subsidiaries
Kyokuto Property Co., Ltd.
(Provision of office space to Kyokuto; Consolidated)

FE Investment Co., Ltd.
(Principal investment business; Consolidated)

Kyokuto Securities Research Institute Inc.
(Provision of research services to Kyokuto; Non-consolidated)
---